Join us for our sixth reading and meeting of the LAAC Book Club--where LA-area archivists and friends read and discuss publications exploring all matters archives. Books are selected every 6 weeks by the group, and may cover topics such as archival theory and practice, historical understandings, current issues and trends in information science, informational technologies, etc....we're open to suggestions!
Our next book selection is The Big Archive: Art from Bureaucracy by Sven Spieker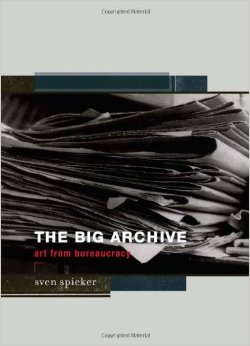 Publisher's Description: The typewriter, the card index, and the filing cabinet: these are technologies and modalities of the archive. To the bureaucrat, archives contain little more than garbage, paperwork no longer needed; to the historian, on the other hand, the archive's content stands as a quasi-objective correlative of the "living" past. Twentieth-century art made use of the archive in a variety of ways—from what Spieker calls Marcel Duchamp's "anemic archive" of readymades and El Lissitzky's Demonstration Rooms to the compilations of photographs made by such postwar artists as Susan Hiller and Gerhard Richter. In The Big Archive, Sven Spieker investigates the archive—as both bureaucratic institution and index of evolving attitudes toward contingent time in science and art—and finds it to be a crucible of twentieth-century modernism.
Dadaists, constructivists, and Surrealists favored discontinuous, nonlinear archives that resisted hermeneutic reading and ordered presentation. Spieker argues that the use of archives by such contemporary artists as Hiller, Richter, Hans-Peter Feldmann, Walid Raad, and Boris Mikhailov responds to and continues this attack on the nineteenth-century archive and its objectification of the historical process.
Spieker considers archivally driven art in relation to changing media technologies—the typewriter, the telephone, the telegraph, film. And he connects the archive to a particularly modern visuality, showing that the avant-garde used the archive as something of a laboratory for experimental inquiries into the nature of vision and its relation to time. The Big Archive offers us the first critical monograph on an overarching motif in twentieth-century art.
About the Author: Sven Spieker teaches in the Comparative Literature Program and the Department of History of Art and Architecture at the University of California, Santa Barbara. He is the editor of ARTMargins, an online journal devoted to Central and Eastern European visual culture.
---
The group will meet on Wednesday, March 16, from 6:30-8pm at Alcove Cafe & Bakery (1929 Hillhurst Ave). Participants to the Book Club will be capped at 12. Please email laacollective@gmail.com to reserve a spot.
Can't make the meeting, but are still reading the book? Let us know!
Published by: Los Angeles Archivist Collective in Book Club