October 14, 2017 - Comments Off on Preserving Pico: A Community Workshop on the Preservation of Photographs
The Los Angeles Archivists Collective, in collaboration with the 18th Street Arts Center, presents a workshop for the Pico community on how to preserve physical photographic collections.
Preserving our photographic histories is essential to understanding our families and our communities. Topics covered will include best practices for handling, caring for and storing your photographs. Community members are invited to bring a limited number of photographs to be digitized and contributed to the Culture Mapping 90404 Project, a community produced map highlighting the history and cultural assets of the Pico neighborhood of Santa Monica.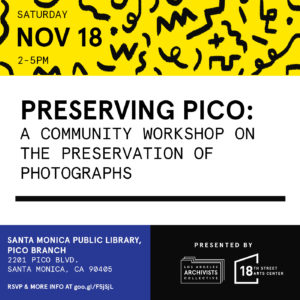 Date: Saturday, November 18th
Time: 2-5 PM
Place: Santa Monica Public Library, Pico Branch
Event Address: 2201 Pico Boulevard Santa Monica, CA 90405
Contact us at: hello@laacollective.org
FAQS
HOW CAN I PARTICIPATE IN PRESERVING PICO? Space for this event is limited. An RSVP is highly recommended. RSVP at goo.gl/F5jSjL
WHAT TYPES OF ITEMS CAN I BRING? You can bring up to 5 personal negatives or loose and unframed photographic prints. Photographs should be 8.5" x 11" and smaller. Photographs of long-term residents, historical and cultural events, community leaders, artists, artworks and community groups of the Pico neighborhood of Santa Monica are particularly encouraged.
WHAT WILL HAPPEN TO MY PHOTOGRAPHS ONCE THEY ARE SCANNED? Upon scanning, the originals will be returned to you. In addition, the digital files will be provided to you on a thumb drive. You will also have the option to contribute your photographs to Culture Mapping 90404. For more info on the project, visit http://culturemapping90404.org/
HOW CAN I PREPARE TO ADD MY PHOTOGRAPH(S) TO THE CULTURAL ASSET MAP? If available, please be prepared with background information about your photograph such as date, location and description. Also be prepared to offer a brief explanation of why you believe the photograph should be included on the cultural asset map.