Ninomiya Photo Studio Collection
Words by Alexandra Arai Cauley and Christina Pappous
In 2010, contractor Bob Tanabe unexpectedly stumbled upon a treasure trove. Hired by a member of the Ninomiya family, Tanabe was in the process of clearing an apartment building for renovation. It was there that the material legacy of forty years of the Ninomiya Photo Studio had been languishing since the studio's closure in the late 1980s.
Unsure what to do but cognizant of the value of these photos, the Ninomiya family and Tanabe approached the Japanese American National Museum, but unfortunately they had no space for the collection. Lacking better options, Tanabe posted an ad to Craigslist asking any interested parties to take the collection. Local assistant director and cameraman Michael Risner was intrigued by the ad and ended up picking up about half of it, a total of around 100,000 negatives. In the intervening years, Risner made diligent attempts to finance and process the collection himself, but eventually found the work to be beyond the scope of a single person. Greg Williams, director of the CSU Dominguez Hills Special Collections and Archives recognized how the collection could enhance the CSUDH Japanese American collections, and as such, fostered a relationship with Risner with the hopes of someday obtaining the photos. Williams's efforts paid off and in mid-2016, the Ninomiya Studio Photo Collection found its permanent home in the Special Collections and Archives of CSU Dominguez Hills. Williams was then able to secure grants from the Haynes Foundation and the California Civil Liberties Public Education Program to prepare the materials for digitization and inclusion into the California State University Japanese-American History Digitization Project (CSUJAD). The CSUJAD database already contains over ten thousand items, and is continually growing through contributions from campuses across the CSU system and elsewhere. Once at CSUDH, the collection underwent preliminary chronological processing before it was ready for heavy-duty rehousing and selection for digitization.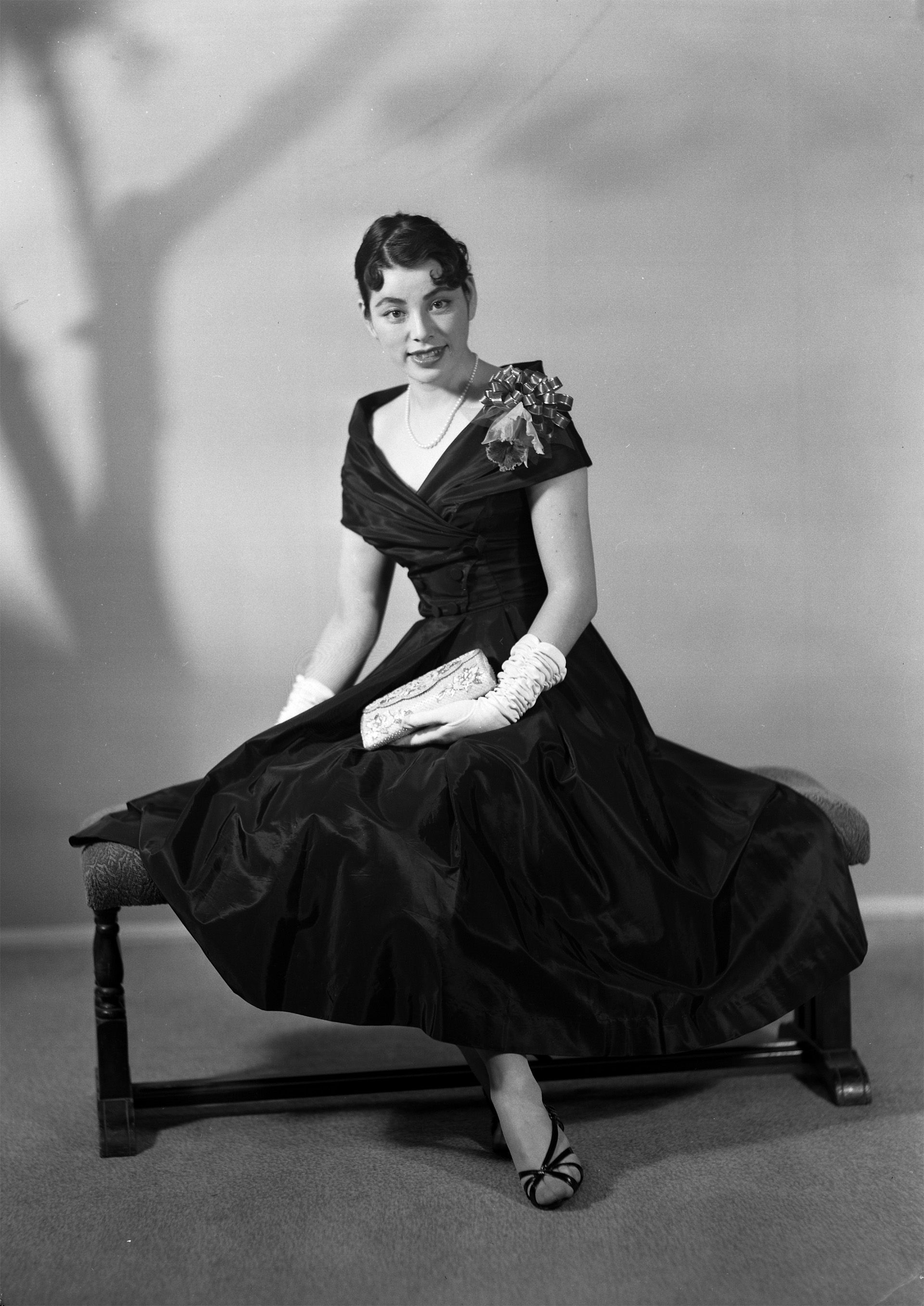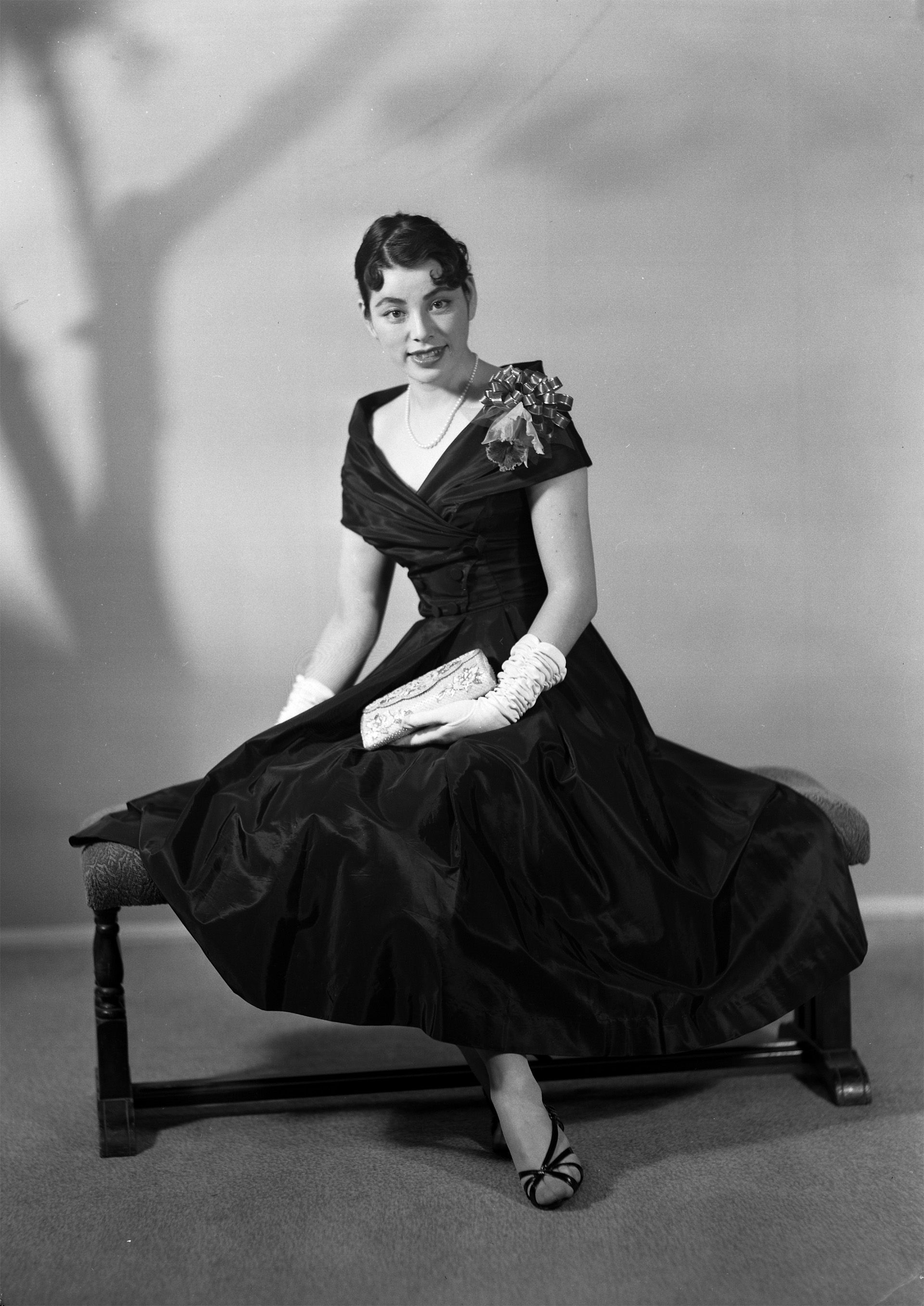 At first glance, processing the Ninomiya Studio Photo Collection is straightforward work. We rehouse the negatives in archivally sound envelopes, label both the envelopes and accompanying prints with pre-existing identification, such as the date and the client's name. The prints are rehoused into album boxes. Sometimes it is indicated on the back of a print which negative was picked by the sitter; however, more often than not it is up to us to select a negative to be scanned. This can be a surprisingly difficult choice to make. For example, with a set of funeral photos, great care and tact must be exercised when selecting a negative as bodies are sometimes visible from inside the casket. Ultimately, the choice is dependent upon our own judgement of what is historically and aesthetically unique, interesting or important. We try to ensure in our selection process that each sitter is properly and respectfully represented. As a team of five people (Lindsey Anderson, Matt Weisbly, Jonathan Toyoda, Christina, and Alexandra), each of us bring our own training and knowledge base to the project which thusly informs our individual selections.  The task of selecting a negative (or multiple negatives) from within an envelope is perhaps the connective tissue between the physical processing of the collection and the larger historical work at play.
Portrait of Mrs. James T. Takashima (1958)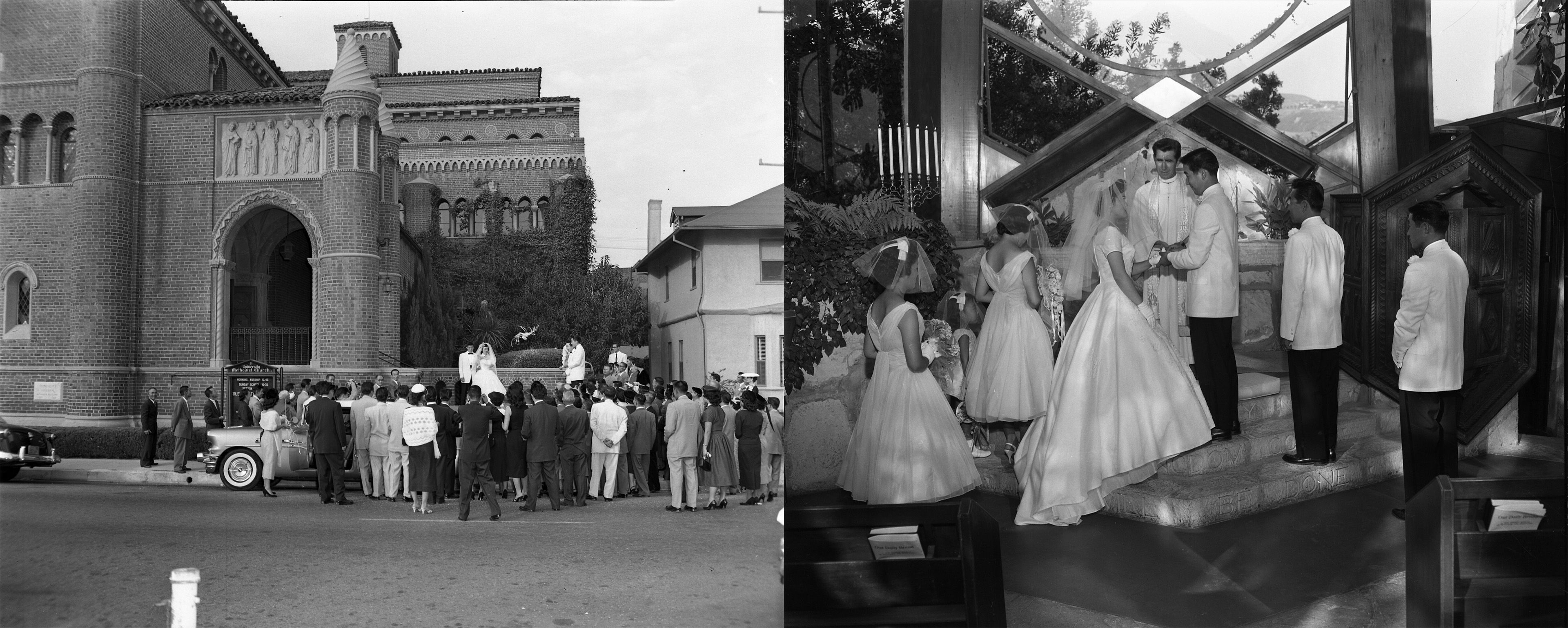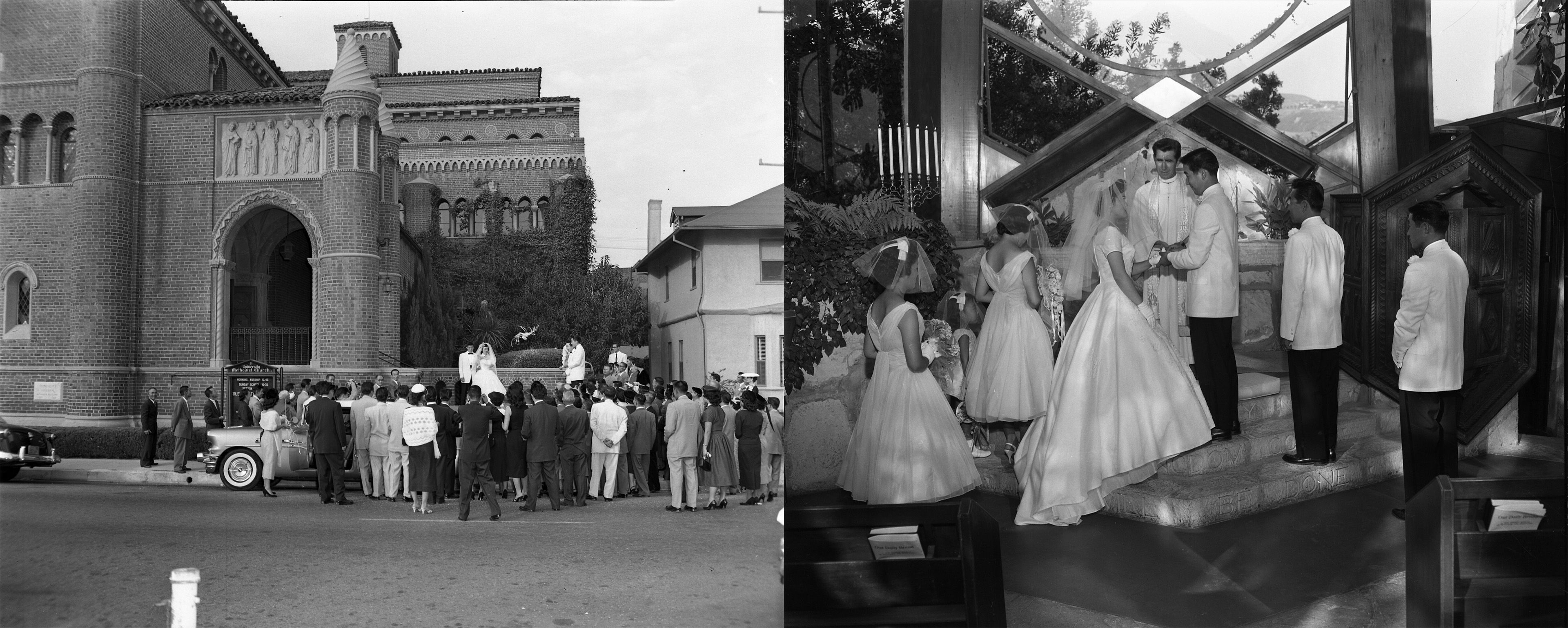 Left: Donald Sharai's wedding at University Methodist Church, located on USC's campus (1956); Right: Kim Ujita's wedding at Wayfarers Chapel in Palos Verdes (1959)
It was immediately clear as we began to work through the collection that the bulk of it recorded significant life events; graduations, weddings, first formal portraits of babies, and funerals are all well represented. While this may seem on the surface to be somewhat repetitive, a closer look reveals something more complex and potent. Thinking of the broader historical context, the collection becomes an invaluable visual record of Japanese Americans in postwar Los Angeles following the immense trauma of wartime incarceration. Kinso Ninomiya, and later son Elwin, were particularly well positioned to document this from their shop on East First Street, where the yearly Nisei Week parades passed by. The Ninomiyas captured photos of other business owners standing proudly in storefronts, candid moments between newly married couples, and unpracticed grief at funerals. As the custodians of the collection, we watch families grow and change as repeat customers returned to Ninomiya for photos throughout the years.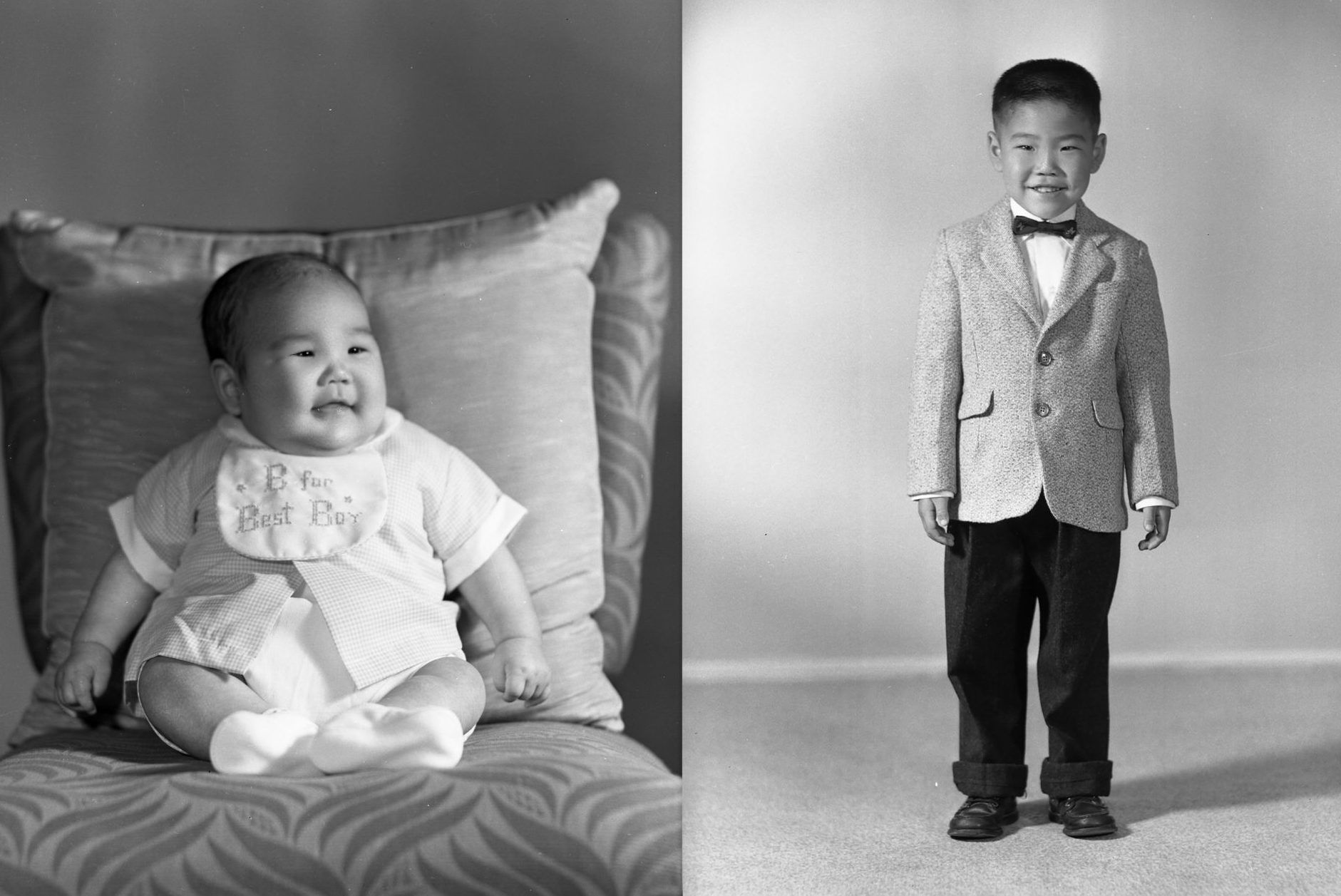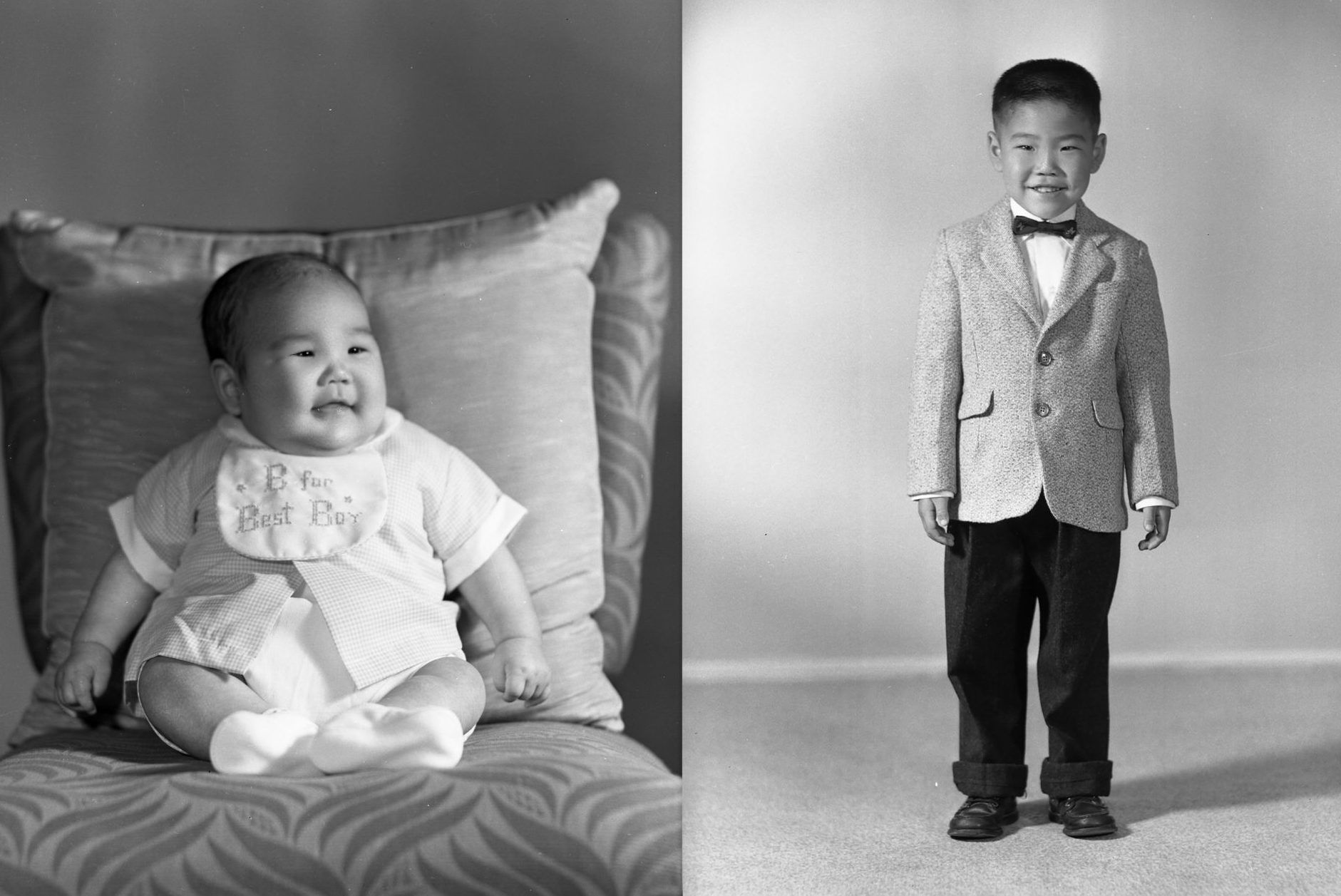 Portrait of Itani brothers (1959)
 
The breadth and depth of this collection, while daunting, is truly one of its greatest strengths. One other notable outcome of this is the spectacular view it offers of the subtle changes in fashion as the years move forward. Aspects like this also influence our organization as we keep in mind researchers with a variety of interests. If there is one takeaway from working on such a fascinating collection, it is that we are its helpers, rather than its shapers. To that end, the CSU Dominguez Hills Special Collections and Archives will engage the community through identification workshops or programs on campus and other locations in Los Angeles. These broader connections to local communities and histories is ultimately what archival collections like the Ninomiya Photo Studio Collection are about.
Alexandra Arai Cauley and Christina Pappous are Archives Processing Assistants with the Archives and Special Collections at California State University, Dominguez Hills.
Alexandra is a graduate of the University of Washington's MLIS program and fifth generation Japanese-American. She has previously worked at the Ella Strong Denison Library and the Claremont School of Theology Library.

Christina received her Masters in Public History from UC Riverside in June 2016. During her time there, she worked on the travelling exhibition, States of Incarceration: A National Dialogue of Local Histories as well as interned with the NBCUniversal Archives & Collections.