The Audacity of Pants
Words by Michelle Finamore
Two weeks after social media was awash with images of stars such as Evan Rachel Wood and Octavia Spencer wearing tuxedos at the 2017 Golden Globe Awards, it is estimated that over 670 women's marches took place across the world. Gender-bending fashion is a timely topic in both the virtual and real world, and at the forefront of my mind as I work on a 2018 exhibition on the subject at the Museum of Fine Arts, Boston.
As traditional gender binaries continue to blur, Wood, who also wore a striking midnight blue velvet Altuzarra tuxedo for the Screen Actors Guild Awards, has a pointed message:
"I'm not trying to protest dresses. But I want to make sure that young girls and women know they aren't a requirement and that you don't have to wear one if you don't want to. Just be yourself, because your worth is more than that."
With the Oscars looming, I found myself wondering: will more actresses forego the standard feminine confections for pants? And who was the first actress to wear pants to the Oscars?
Wood's tuxedo paid tribute to two seminal figures in gender-bending fashion: Marlene Dietrich and David Bowie. Dietrich, although she effectively alternated between hyper feminine garments and male-styled garb, will forever be associated with dressing in men's suits.  She notably wore a black tuxedo and matching fedora to the 1932 premiere of The Sign of the Cross, but for award ceremony appearances she usually opted for Hollywood glamour, wearing a form-fitting couture dress by Christian Dior or a shimmering column by Hollywood costumer-turned-designer Jean-Louis.  Aside from the World War II era when evening dress was banned from the ceremonies because of textile restrictions, the formality of Academy awards attire has continued to hold sway with tuxedos for men and gowns for women the norm.
Model Marian Durand wearing an oxford slack suit referred to as "a la Marlene Dietrich" at the Biltmore Hotel in 1933. From the Los Angeles Public Library Photo Collection.
So in getting back to my original query, it turns out that the answer lay in the Museum's own collection and amazingly, even with fashion history milestones such as the garconne look of the 1920s and Yves Saint Laurent's 1960s Le Smoking tuxedo for women, it was not until 1969 that an actress was bold enough to don pants for the Oscars. The Museum of Fine Arts, Boston holds the career archive of Canadian-born American fashion designer Arnold Scaasi – garments, sketches, press books, business records, fabric swatches, toiles, and runway videos. When Barbara Streisand was nominated for best actress in Funny Face, Scaasi designed a sheer black, sequined top and bell-bottomed pants ensemble that is still one of the most memorable Oscars fashion moments. When Streisand went up to the stage to accept her award, and the flashbulbs went off, it looked as if her garment was completely see-through, even though it is fully lined in nude fabric. The press was ruthless about the ensemble, with Women's Wear Daily describing it (and Streisand) as having "more chutzpah than taste" and it still lands on the worst dressed lists time and again. The incident begs the question: was the sheerness the most controversial aspect of the design? Or was it the audacity of a woman wearing pants for a formal evening occasion?  Or perhaps it was a combination of the two? And how did that change wardrobe choices for future ceremonies?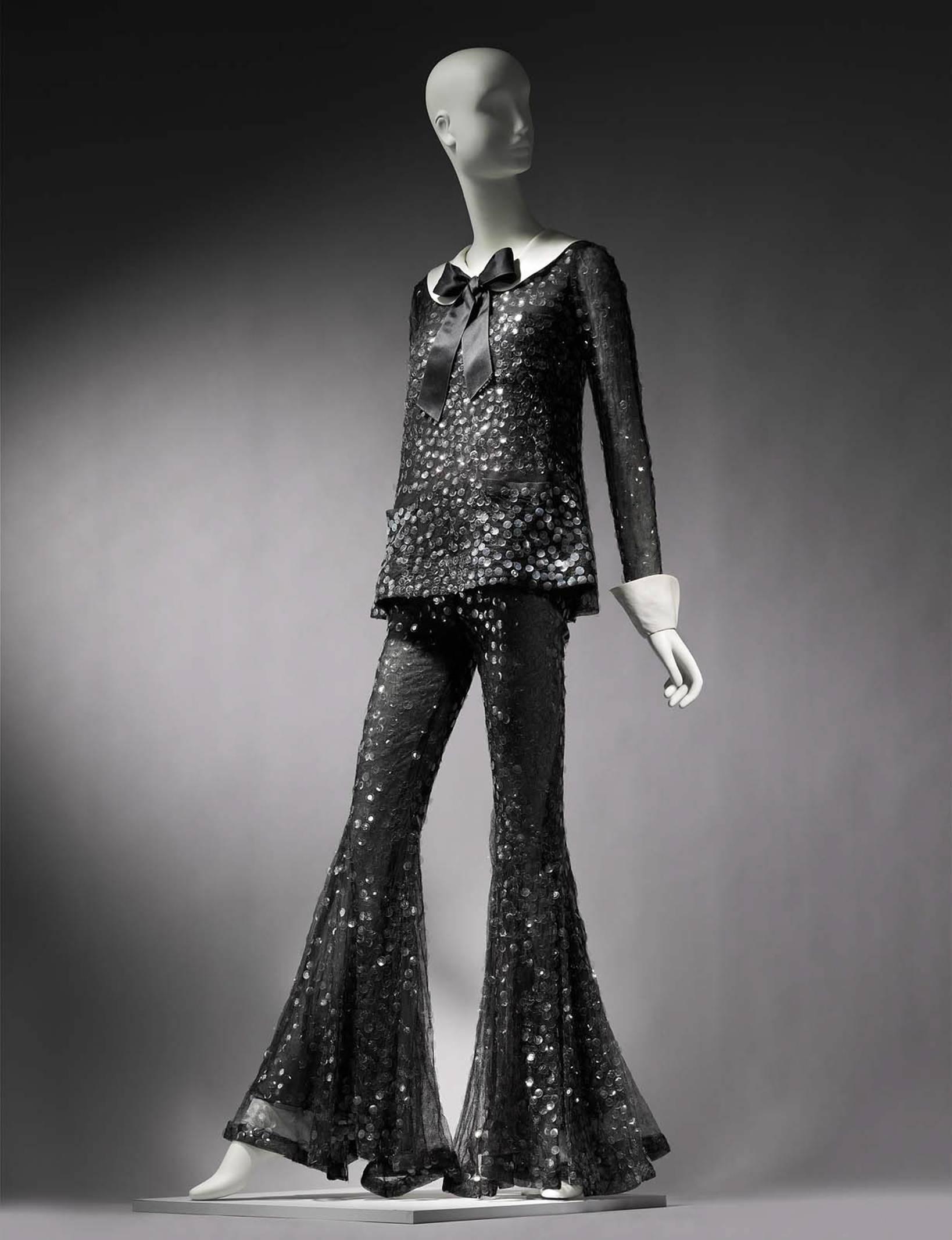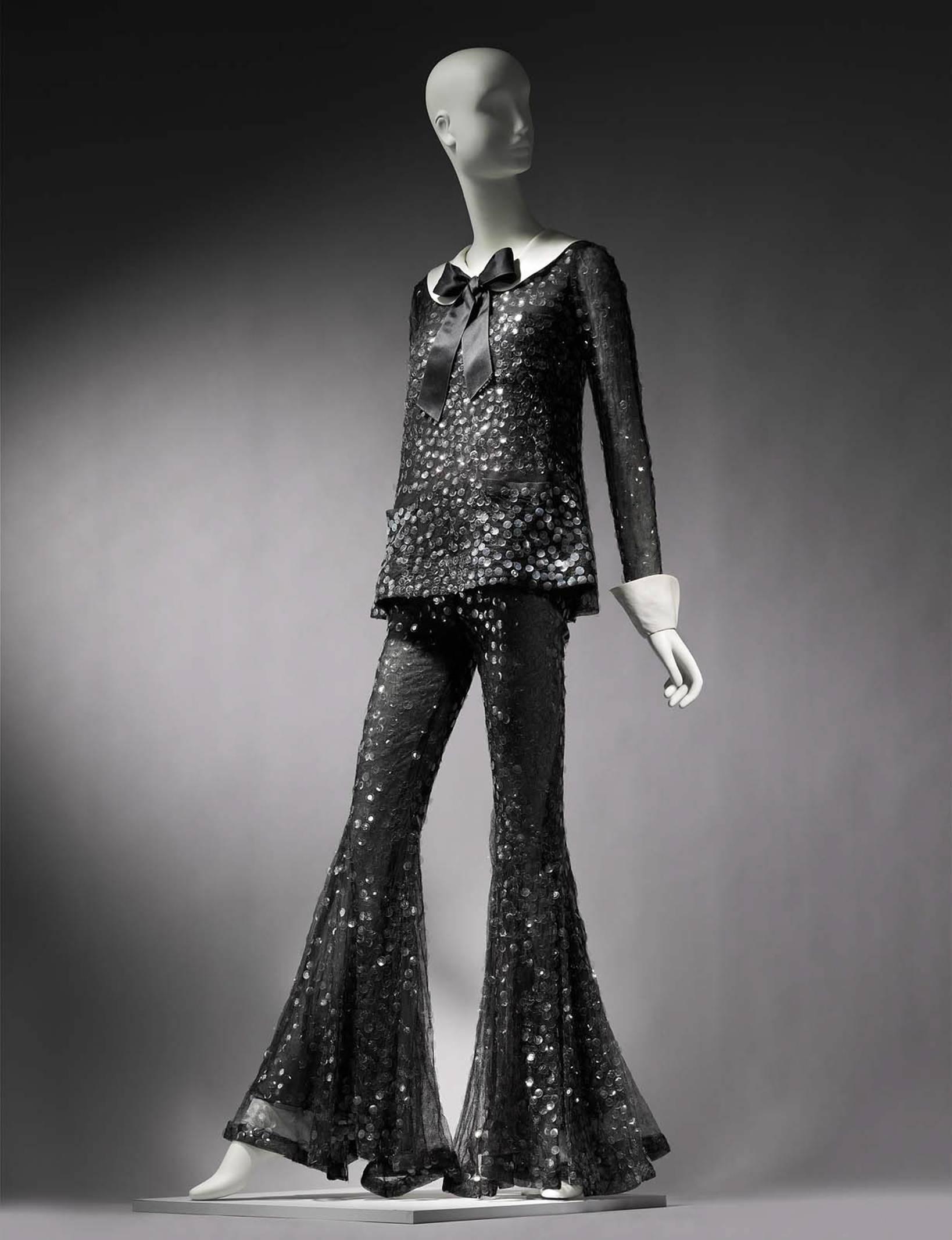 Woman's ensemble


1969

Cotton plain weave; silk satin weave; silk tulle embroidered with sequins; silk plain weave; metal
Arnold Scaasi Collection-Gift of Arnold Scaasi

Made possible through the generous support of Jean S. and Frederic A. Sharf, anonymous donors, Penny and Jeff Vinik, Lynne and Mark Rickabaugh, Jane and Robert Burke, Carol Wall, Mrs. I. W. Colburn, Megan O'Block, Lorraine Bressler, and Daria Petrilli-Eckert.

© Museum of Fine Arts, Boston

Photograph © Museum of Fine Arts, Boston
A Selection of Archival Materials from the Arnold Scaasi Collection at the Museum of Fine Arts, Boston
Courtesy of the Department of Textile and Fashion Arts. © Museum of Fine Arts, Boston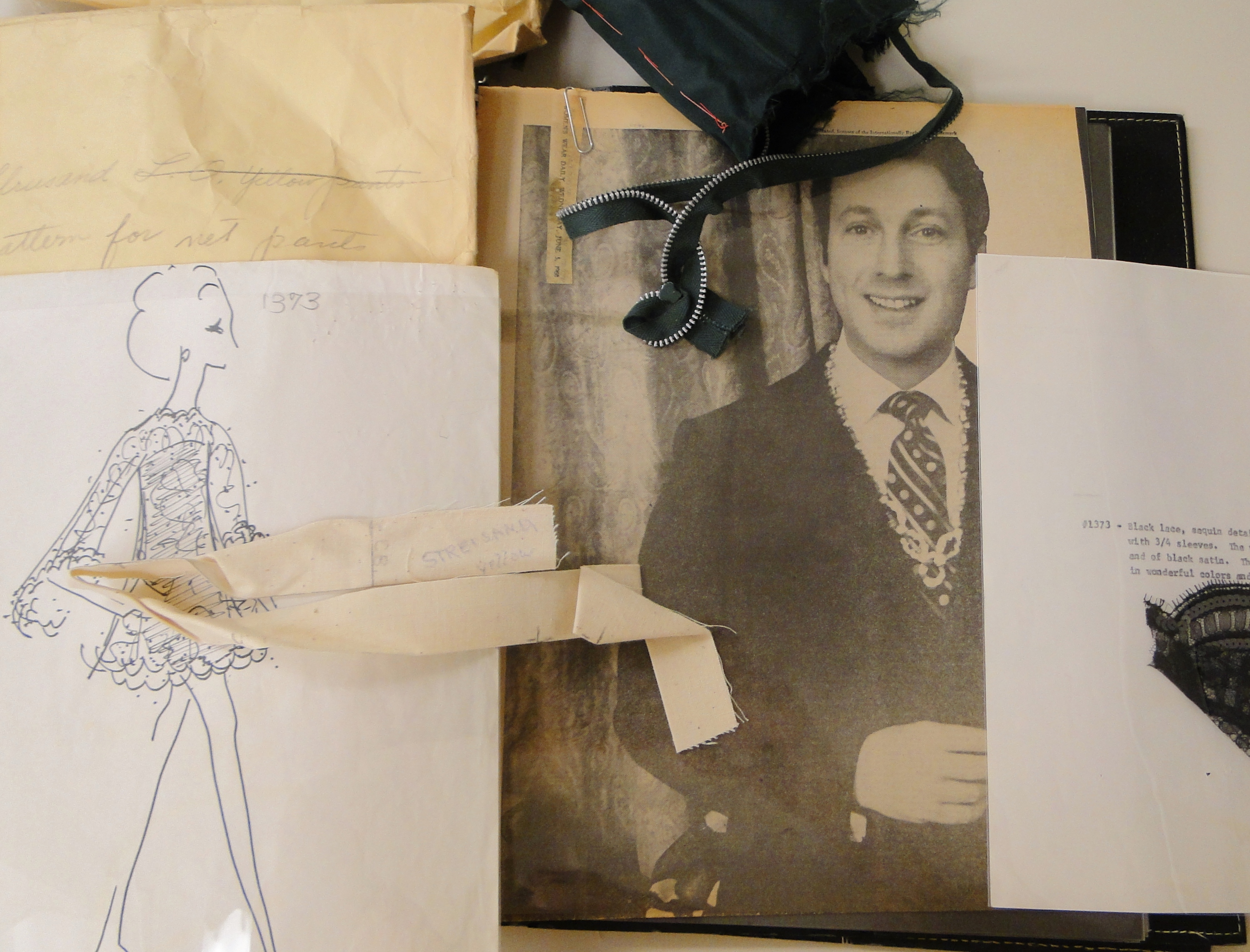 By 1969, it was certainly common for girls and women to dress in pants for casual wear and sports. Three years earlier, French couture designer Yves Saint Laurent introduced his Le Smoking – a woman's tuxedo that could be worn for formal wear. The key here is the context - women wearing pants for formal occasions was not very common at this time. Helmut Newton's photographs of Le Smoking for French Vogue added to its shock value; one image showed an androgynous model in the tuxedo together with a nude woman, emphasizing the masculinity of the look, and adding a frisson of sexual tension and implications of cross-dressing and lesbianism. For Streisand, while the press was never that explicit about the pants being the issue, there was an undercurrent of disapproval in some of the coverage. A number of journalists referred to it as pajamas, suggesting an informality that was simply not appropriate for evening wear. Even now, amidst the seemingly endless award shows, the Academy Awards are still arguably the most visible platform for Hollywood fashion display. The Oscars were inaugurated in 1929 but the live Red Carpet did not begin until after the awards were televised in 1953. Fascination with what the stars are wearing, however, dates back to the beginning of film history. My research for Hollywood Before Glamour: Fashion in American Silent Film illustrated that in the 1910s, starlets such as Gloria Swanson had keen interest in documenting their status as fashion icons.
Swanson's archive at the Harry Ransom Center at the University of Texas at Austin contains whole volumes dedicated to her trend-setting ensembles that caught the attention of the press, annotated with her own personal notes related to how important the coverage was to her and her career.  By the early 1960s, it was certainly quite common to report on what the stars were wearing, but the focus did shift over time. Columnists such as Louella Parsons, for example, in her column for Modern Screen magazine, included photographs of the glamorous gowns worn by the stars, but primarily wrote about the weight of the beading on the dresses and their exorbitant cost. The designer name was secondary to the formality, luxury and fantasy that these costumes embodied. Streisand, however, changed that formula not only by wearing pants but also by expressing a uniquely personal sense of style.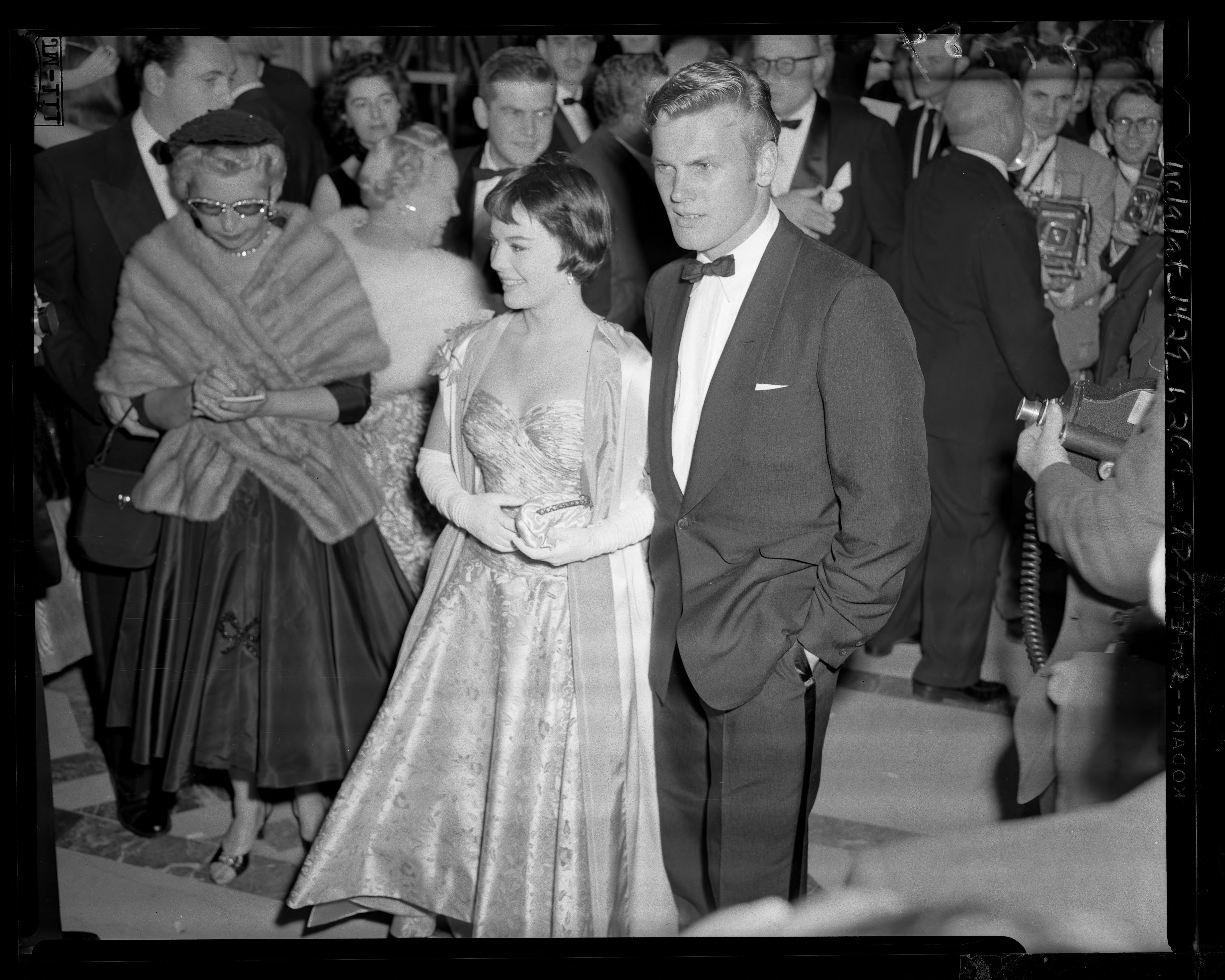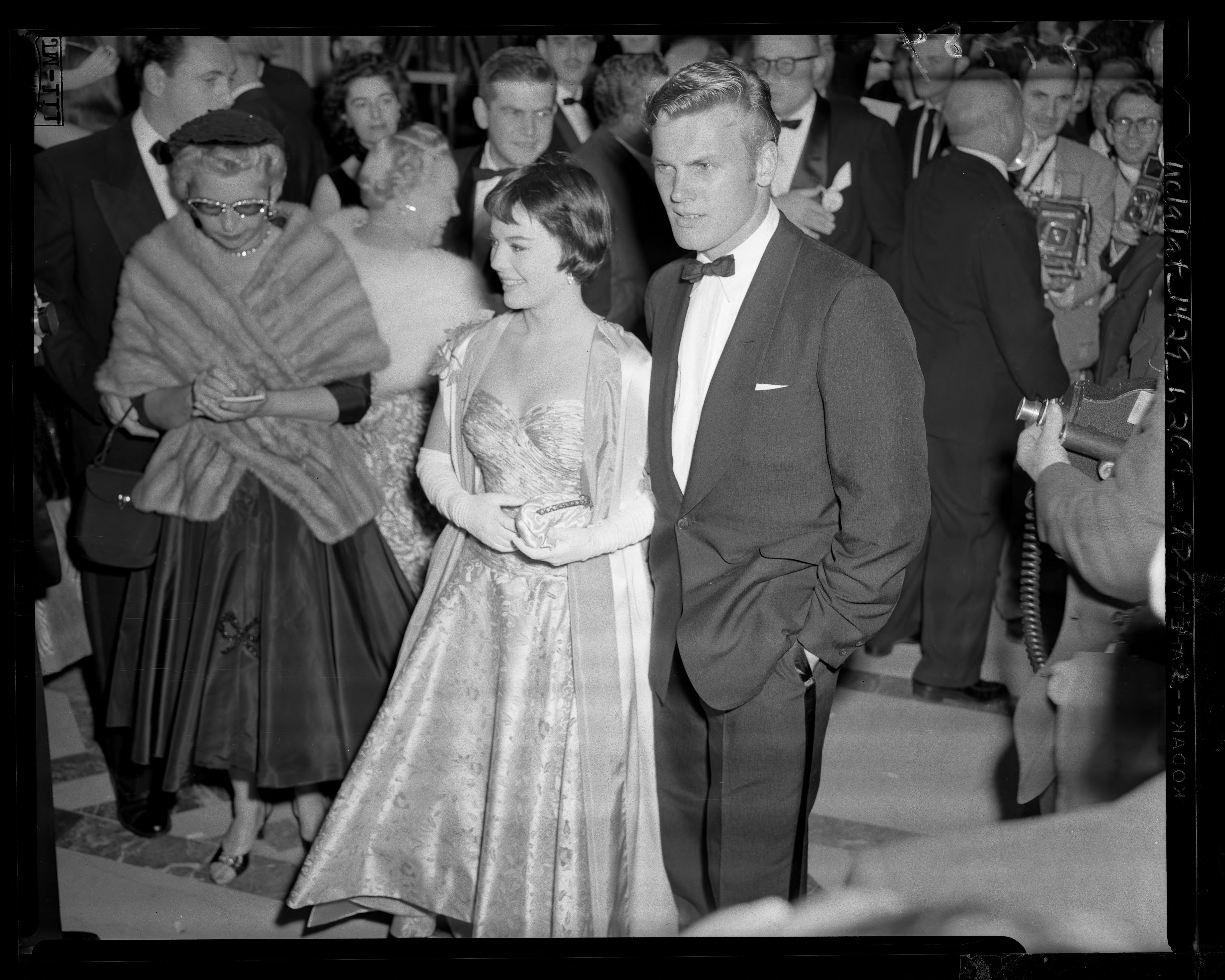 Actors Natalie Wood and Tab Hunter arriving at the 28th Academy Awards with gossip writer Louella Parsons in background, 1956. From the Los Angeles Times Photographic Archive. Department of Special Collections, Charles E. Young Research Library, UCLA.
Tatum O'Neal, holding her Oscar for "Paper Moon" at the 47th Annual Academy Awards, Calif., 1974. From the Los Angeles Times Photographic Archive. Department of Special Collections, Charles E. Young Research Library, UCLA.
In taking a somewhat unofficial survey of women in pants at the Oscars, the 1970s emerge as a key decade for sartorial statements. At least six ceremonies throughout the 1970s witnessed actresses such as Jane Fonda, Diana Ross, Katharine Hepburn, Tatum O'Neal, and Diane Keaton all wearing suits or pants ensembles.  Perhaps the most notable was 1974, when 10-year-old Tatum O'Neal insisted on wearing a tuxedo designed by Nolan Miller to accept her Oscar for Paper Moon.  At the time, Bianca Jagger was her father Ryan O'Neal's girlfriend and Tatum thought Jagger's signature dapper white suit and cane ensembles were quite cool. Jagger also bucked tradition for her wedding to Mick as well, choosing a white suit (albeit with skirt rather than pants) when they married in 1971.
Like Dietrich, Diane Keaton will forever be associated with her menswear-inspired ensembles, specifically those popularized in the film Annie Hall. For the Oscar ceremony the year prior to Annie Hall, Keaton wore a white suit with a striped shirt and tie, which garnered mixed reviews. 
Interestingly, the following year, when getting her Oscar for the 1977 film, she wore a "feminized" version of the ensemble pairing a tailored jacket, collared shirt, and dandy-inspired lapel flower with a skirt and scarf rather than tie. For Annie Hall, costume designer Ruth Morley could not dissuade her from dressing in menswear and for Keaton, there was no line between her on-screen persona and her real life style. Keaton's allegiance to her distinctive look continues, and she notably attired herself in a tailcoat tuxedo complete with dandified carnation in her lapel for the 2004 Academy Awards.  
Political activism, feminism, and gender identity issues percolating in the counterculture zeitgeist all had an impact on the uptick in pants-wearing in the 1970s. In looking at the years that followed, it is not surprising that the Reagan era was marked by a return to gender-specific formality, with a few notable exceptions, including Julia Roberts wearing a loosely structured Armani suit and tie in 1990. The last few years have seen a re-emergence of pants at the ceremonies and an explosion of gender-bending fashion both on the runways and the streets. Boxy menswear jackets for women dominated New York Fashion Week and labels such as Calvin Klein, Gucci and Hood by Air all presented shows that challenge gender binaries.
Stylists and fashion product placement currently control the contemporary Red Carpet, and formality still reigns at what is essentially a black-tie affair. There are, however, more and more actors who are choosing to make a statement and we appear to be in the midst of a renewed interest in both personal sartorial expression and gender bending. Virtually every award show this past season showcased women in suits including Amy Adams in a Max Mara navy tuxedo at the Gotham Independent Awards and Halsey at the Grammys who intentionally chose baggy blue satin pajamas for their androgynous look. And in the very recent past, costume designer extraordinaire Sandy Powell channeled David Bowie for a number of the award ceremonies. Like Evan Rachel Wood, who specifically mentioned Bowie as inspiration for her own look, it is not surprising that Powell is looking back to the androgyny of the 1970s for inspiration at another moment in history when gender continues to be redefined.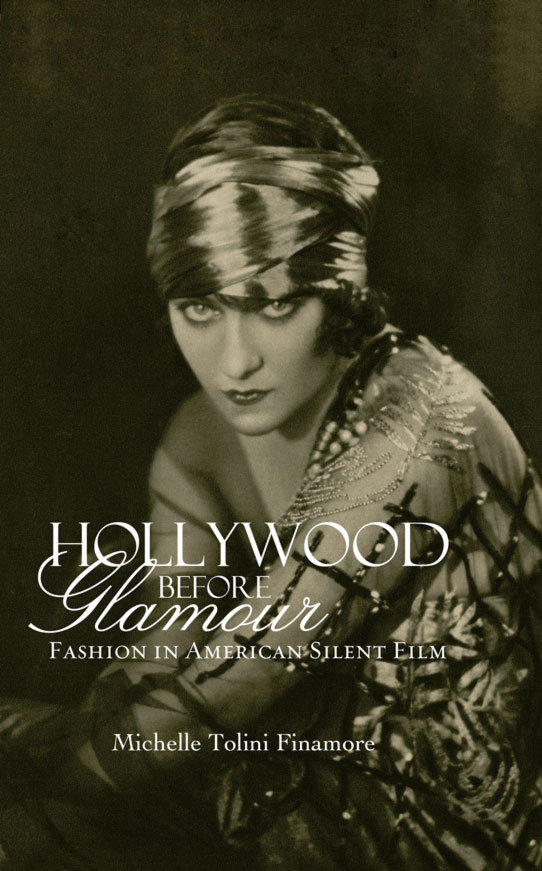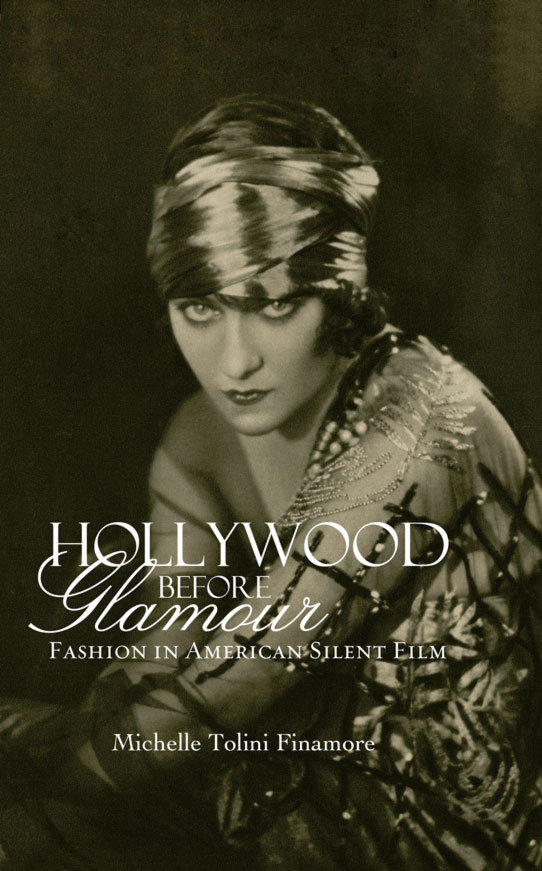 Michelle Finamore is the Penny Vinik Curator of Fashion Arts at the Museum of Fine Arts, Boston and author of
Hollywood Before Glamour: Fashion in American Silent Film

. Her previous exhibitions include "Hollywood Glamour: Fashion and Jewelry from the Silver Screen," "Think Pink" exploring the changing meaning of pink in art and fashion, and "#techstyle" exploring the impact of technology on fashion.
With special thanks to interns Caroline Kipp, Mallory Drover and Emma Ruff for research assistance.